Best hockey shin guards for seniors is such crucial topic to analyse. We know how rough senior hockey can be and sometimes it can even lead to severe injuries. So a hockey player needs to look for the best playing gear to give him or her maximum protection. For example best field hockey mouthguards for seniors. Shin guards help protect players' legs from serious injuries.
When acquiring shin guards go for the best from the world's top producers, such as Bauer and CCM. All hockey shin guards offer players essential protection. But when playing with seniors, a player needs the best protective shin guard for maximum protection.
In case you are seeking an upgrade with a new pair of senior hockey shin guards, you will enjoy benefits such as from cutting-edge protection and comfort technologies, the innovations in strap structure, and knee and calf protection.
Based on personal experience and research, we are going to reveal the best hockey shin guards for seniors.
Best Hockey Shin Guards for Seniors
Hagan H-5 PRO Shin Guards
Bauer S17 Supreme S150 senior guard
CCM JetSpeed FT350 Hockey Shin Guards
Harrow probot shin guard
Hagan H-5 PRO Shin Guards for Ball and DEK hockey 
The Hagan H-5 PRO Shin Guards is the most innovative shin guard available in the market today. It has a slim form-fitting construction that remains firm while playing. They do not need tape.
It is an adjustable shin guard; this is to enhance a perfect fit. They are designed to be lightweight specifically to attain the needs of competitive senior and Street Hockey players.
The knee is adjustable up or down for size or can be obliterated. This shin guard straps are interchangeable and replaceable. It is possible to shorten the straps to ensure each player, regardless of size, finds an ideal fit to suit their leg shape.
Grab or check the current price for the Hagan H-5 PRO Shin Guards on Amazon.
 Features 
The straps are adjustable and replaceable
It has a Ventilated Shin and Knee for airflow while playing
Designed with a long-lasting crack-resistant shell
Removable knee
Contour form-fitting construction
It is a Light Weight material
Form Fitting Low Profile Construction
Pros 
They are well-fitting and comfortable
They are firm and do not spin while the player is running while playing.
It is a lightweight shin guard for seniors
Durable design
Cons 
The Velcro going around the leg is too short especially for players with thick legs
Bauer S17 Supreme S150 Senior Shin Guard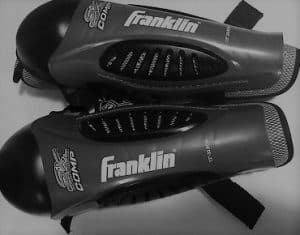 The Bauer S17 Supreme S150 senior guard ensures that every player move matters since they anatomically fit shin guards. Designed with protective foams, comfortable these pads are tough enough to withstand a significant impact while helping an athlete stride toward greatness.
They have a lot of features not available in professional standard guards, such as they have a ribbed shell. They are structured to redirect the impact of a hit, stiff medium density foam that covers the main casing to give player legs maximum protection while playing.
You can grab or check the current price for the Bauer S17 Supreme S150 senior guards on Amazon.
Features 
They have a Supreme Shin guard fit, which is fine, and close-to-the-body structure makes for a tight, anatomical fitting, resulting in a free and more powerful stride.
Designed in a Multi-segmented structure with a hydrophobic mesh liner
Adjustable two straps strapping System
Perforations for ventilation
Pros 
Excellent protection for senior hockey players
They are easy to adjust
The foam lining keeps the shins dry, and thus the pad can not move
Cons 
CCM JetSpeed FT350 Hockey Shin Guards (Senior)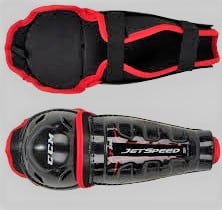 Like most of the modern shin guards, CCM JetSpeed FT350 Hockey Shin Guards has a ribbed shell, which is not a solid surface but has little ridges. These shins are new to the market addition of CCM's protective line and are well professionally structured lightweight, and enable easy player movement without compromising athlete protection.
The structure of these shin guards is objective for it to be lightweight and moveable, and the two features courtesy of the shell structure and PE foam inner lining. To firmly hold everything in place, these shins use the upper lock strap and a calf strap that is an adjustable tailored fit in the player leg.
The Jet Speed FT350 Shin Guards have a HockeyMonkey fashionable, an advanced anti-microbial lining on the inside of shins, which further assists in reducing drying times and lessening bacterial growth.
You can grab or check the current price for CCM JetSpeed FT350 hockey shin guards on Amazon.
Features  
Have a ribbed plastic shell
Designed with ventilation holes
Has a moisture-wicking lining
Features a medium-density lining
Pros
They have a lightweight shell design and hinge system.
The shins are molded with PE calf protector and additional adjustable calf straps.
These it fits all calf sizes and light protection
Anatomical Shin Caps With perforated Knee Cap and allows lightweight protection.
PE foam for a maximum level of protection.
The Upper lock strap which has a comfort lining and updated adjustable calf straps for customizable to fit all players' sizes.
They are designed with a changeable liner for a custom fitting, thus easy maintenance and maximum protection.
Cons
They offer minimal protection to the back of the leg
Harrow Probot Shin Guard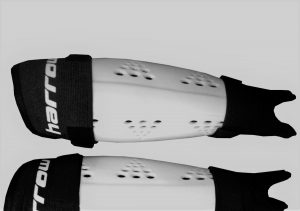 The Harrow probot shin guard is one of the simplest shin guards in the world of shins. The outer protective shell is made of one solid shell of plastic. The shell has small vent holes, which allows air to move freely into the player's leg and stop so much sweating. It has a cushioned liner for comfort and is removable for easy washing. It is popular among all levels of play. They work excellently under the socks and protecting the ankle.
These shin guards also help anchor the knee from slipping. These shin guards perfectly fit well and offer maximum protection, but they do not come straps.
You can grab or check the current price for the Harrow probot ghin guards on Amazon.
Features 
Made of the plastic shell
Has a removable liner
Ventilation holes
Removable straps
Pros 
The plastic shell is thick enough and can withstand a significant impact in case of a hit.
The liner can be removed for easy washing
Has plenty of ventilations that allow air in to enhance comfort
Cons 
They don't come with straps
They are non-adjustable shin guards
The shin guards or the ship pads can be worn on different sports to offer protection. Other sports includes association football, baseball, ice hockey, field hockey, lacrosse, cricket, and mountain bike trials.